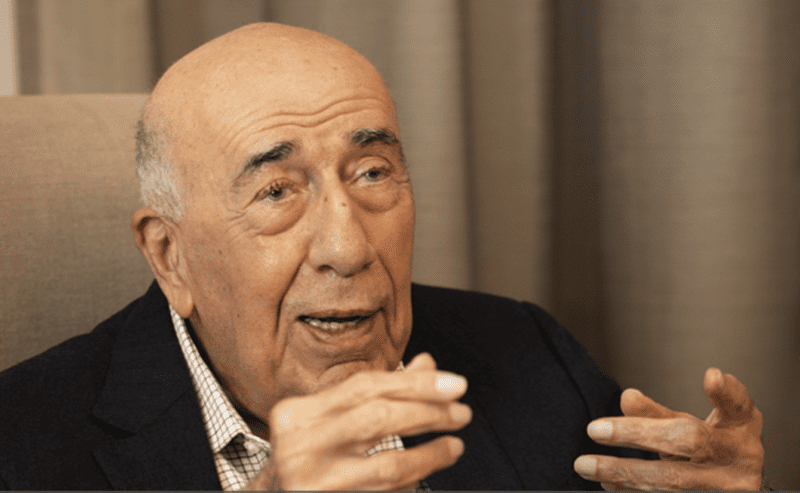 One of the first Bahrainis to achieve a doctorate in political science, Dr Abualqassim Abbas Shirazi helped establish the first luxury watches and branded jewellery store in the kingdom. The Bahrain Jewellery Centre now is a regional leader, showcasing more than 200 brands, writes Sree Bhat
It is rare for the holder of a doctorate degree in political science to dive into the world of business and trade and it is rarer still to find such an academic start his career at the shop floor of an automobile dealership.
Dr Abualqassim Abbas Shirazi not only took the 'plunge' but also put his heart and soul into the chosen path to be successful. Yet behold, the success for Arabian Knight's Business Leader this issue came in quite another arena, where time is everything.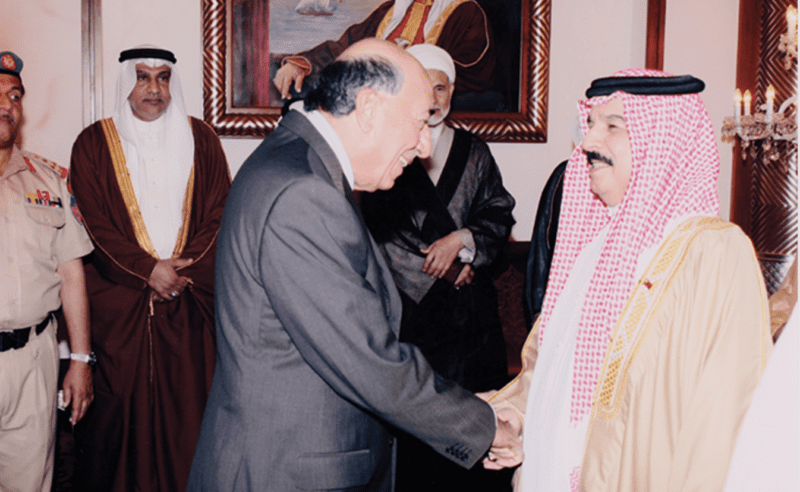 Born in 1941 in a family that for generations was into trading, Dr Shirazi started schooling in Bahrain and later was moved to Lebanon, where he studied for three years. However, he came back to Bahrain for his high school and graduated from the Government Higher Secondary School.
Keen to learn German language, he went to Rottenburg University in Germany and mastered the language in three years. While he learnt the A to β of German, he also worked at a chocolate factory.
The work experience taught the young adventurer lessons in discipline and German work culture that helped shape him and face the challenges of tomorrow, narrates Dr Shirazi.
No wonder it also left him with a discerning taste for chocolates. "They allowed us to eat whatever we wanted at the factory, but won't permit us to take anything out. It left me with a sweet tooth," he chuckles.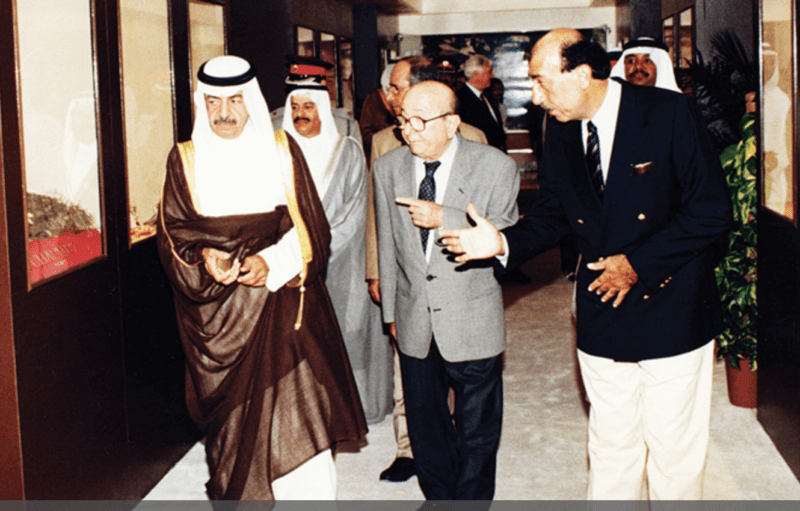 DREAMING BIG
Young Abualqassim dreamt big and wanted to pursue further studies in one of the best universities. For the next decade, Austria's Graz University became the playground of his pursuit. He completed his bachelor's, Masters and finally in 1973, his doctorate degree from the university.
Graz is the capital of Styria, the green heart of Austria. Fascinating caves, waterfalls, mountains and snow captivated the young Abualqassim so much that he became a life-long nature lover.
Dr Shirazi is one of the first Bahrainis to achieve a doctorate in political science and surely there were good academic or government career opportunities waiting for him in the young nation. However, on returning to Bahrain, he opted to enter the family business, starting at the bottom of the ladder.
Did he consider other options? Without batting an eyelid, Dr Shirazi says the family wanted him since his father had just passed away and there was nothing more to ponder about.
Initially, he worked at Behbehani Brothers Bahrain, in which the Shirazi family is a partner, for a few years, beginning at the garage and then moving into other areas of the business such as sales, repair and management. The experience stood him in good stead for newer challenges.
SEIZING OPPORTUNITY
In 1978, the Shirazis saw a gap in the luxury market and decided to seize the opportunity. Dr Shirazi joined his uncle, the late Abdul Razak Shirazi, and his brother Abdul Majeed Shirazi to launch the Bahrain Jewellery Centre , the first luxury watches and branded jewellery shop in Bahrain, in the Manama Souk. Abdul Majeed is currently the Chairman of BJC Holding.
The Shirazis had the first mover advantage in the market and in the very first year itself "hundreds of watches were sold'. Omega, Tissot, Baume & Mercier, Chopard, Piaget and Patek Phillipe were all in high demand.
BJC moved to a bigger store in Manama soon. Business grew considerably over the next few years and it started opening more branches in the kingdom. The jewellery side of the business also prospered with BJC meeting the demand for European design branded jewellery.
For Dr Shirazi, the years spent in Europe had now become a boon. With his knowledge of German and the experience of staying in the West, he became a driving force for the new business.
"Since the Swiss speak German too, it became easy for me to deal with leading Swiss watchmakers. I travelled far and wide to help grow the business, meeting clients and principals and attending exhibitions across the globe – Basel, Paris, Geneva, Milan, Hong Kong, Singapore and many others – bringing the very best for the clients in Bahrain," says Dr Shirazi, who was now the face of BJC outside the kingdom.
For the country the size of Bahrain, no one would expect the luxury market to be big. However, Dr Shirazi says, contrary to what one may think, there is a huge demand for luxury in Bahrain and many of the brands that the customers wanted were not available here at the time.
"Back then, Bahrain was the commercial hub of the region. We were selling a lot to Kuwait, Saudi Arabia and the UAE. Our clientele was international and we also used to supply palaces in Abu Dhabi and Saudi Arabia," continues Dr Shirazi.
Over the years, the luxury market in the region has grown immensely and various capitals and cities in the Gulf compete for the glamour and glitter the brands bring. Despite the competition, BJC has continued its growth.
The company the three Shirazis set up four-and-a-half decades ago is today synonymous with Swiss watches and high-end branded jewellery in the kingdom. The retailer now has 18 branches in Bahrain and two in Saudi Arabia – in Dhahran and Riyadh – showcasing more than 200 brands under its umbrella.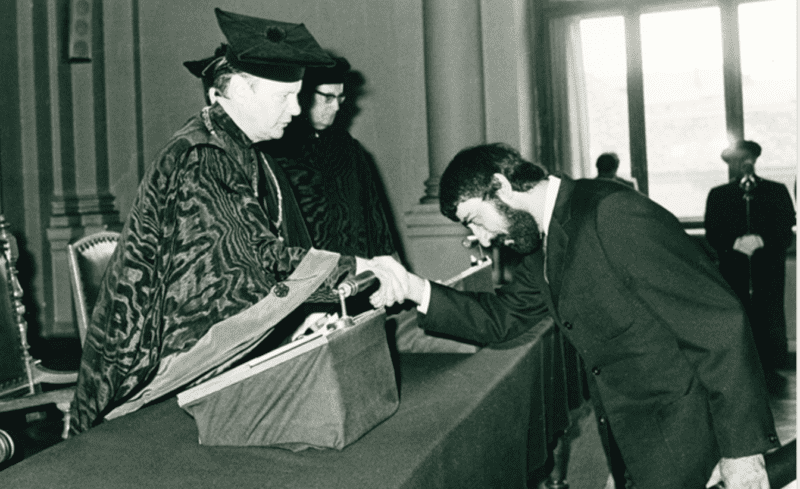 CORE VALUES
From the beginning, BJC focused on three core values: high quality, exceptional customer service and a passion for excellence, emphasises Dr Shirazi. "Because of this, we have built a strong relationship with our clients and they look upon us to provide quality products. There are families buying from us since the 1980s. Now their children are also buying from us," Dr Shirazi says with pride.
"The business is also benefitting from the increasing number of high-end tourists coming to Bahrain for the various international events including Jewellery Arabia, Formula 1, Bahrain International Airshow and other events. They come to our shops to buy watches and jewellery."
Dr Shirazi singles out Jewellery Arabia, the Middle East's premier jewellery and watches event, for praise. The company has played an integral part in Jewellery Arabia and has consistently held the largest exhibiting space amongst exhibitors every year during its 30-year history. The BJC pavilion at the show is the star attraction for the connoisseur of luxury, including the royals and discerning collectors.
The BJC group has expanded into other areas such as accessories, perfumes, home accessories, gifts, luxury baby items. BJC Gifts includes high-quality crystals and decorative gift items, while BJC Baby creates fine accessories as an investment for the next generation. BJC Vintage offers exquisite selections of rare and unique pieces.
"My vision for the future is to see growth in all aspects of the business and to continue to be a name synonymous with luxury. We have established a solid legacy in Bahrain over the past four decades, which we are committed to pursuing," says Dr Shirazi.
With the digital devices vying for wrist space, are they concerned about the luxury watch market? On the contrary. There's more demand for watches now, especially from the younger generation. However, trends are changing. Previously people wanted only classic, complicated watches, leather straps and small cases. Now, the hype is about sporty watches. A large percentage of the clientele prefers to have sporty watches than classic watches, explains Dr Shirazi's son Ahmed Shirazi, a Director at BJC.
Though Smart watches outsell all the watches in the market, luxury watches have their own place in the market. Two of BJC's brands also make luxury smart watches in very limited quantity – Tag Heuer and Hublot.
"We still stick to the classic, the movements, the complications and the handcrafted watches," he avers.
Many of the high-end watches are made in very limited numbers. Is BJC able to get these for collectors in Bahrain? Yes, for sure. Although Bahrain may be a small country, the kingdom is considered one of the top markets for watches. "Believe it or not, Bahrain has a big clientele for watches and hosts many top collectors. People are well educated on luxury and have been collecting watches for years.
"The market is getting bigger and bigger year by year, buyers are very passionate about watches," he says.
Dr Shirazi has also helped establish many pioneering and leading businesses in the kingdom during his long career. One of them is the first man-made island in Bahrain. He is a founding member and partner in the Amwaj Islands project, and board member of multiple companies emerging from the project.
He is also a founding member and Chairman of the Board of Directors of Adala Holding Company and Chairman of the Board Management of Adala International Real Estate Company.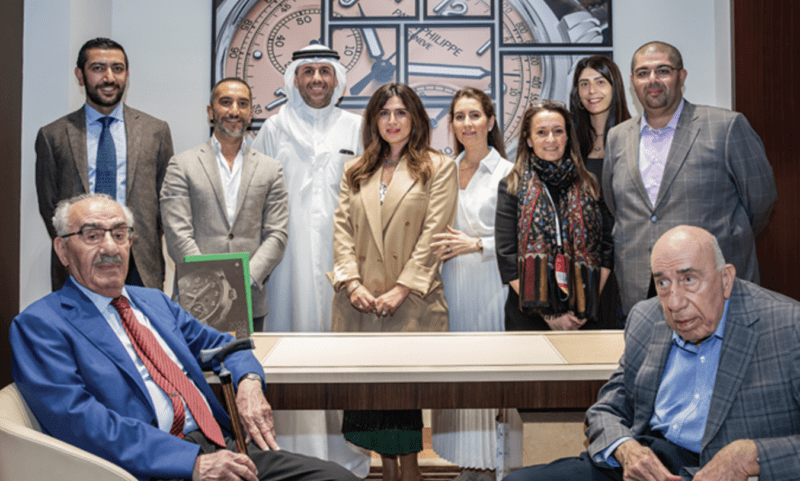 FAMILY SUPPORT
Dr Shirazi married Dhawiya Sayed Sharaf Al Alawi in 1978 and has three children – Ali, Layla and Ahmed. Mrs Al Alawi, a graduate in commerce from Cairo, has held senior positions in the government, including as the Director of the Ministry of Commerce and Industry. She retired as Supreme Council of Women Assistant-Secretary General, in which role she worked for 14 years.
Dr Shirazi says during his travels and travails in life, he received the unconditional support of his family. "I am grateful to my wife, in particular, for her understanding and for taking care of the family while I was busy growing the business."
Standing by her husband's side, Mrs Al Alawi is quick to say she didn't play any role in the business. "I would sometimes give my opinion. But he was very confidential about business and about his clients. He is like a physician and wouldn't mention the names of his clients or what has been sold to them," she smiles.
"He worked very hard and gave all the time for the business and family. Before he came home, he would always go to his mother and sister. He was very attached to family," continues Mrs Al Alawi.
Dr Shirazi, who has spent almost 45 years in the business, is still active, though now the fourth generation of the family is taking care of the day-to-day activities.
"I am proud of the new generation of the family which is taking the business to greater heights and wish them well," he says.
Son Ahmed interjects: "The elders are still involved. We always go back to them for guidance. We try to emulate their way of doing business, because we believe that is the right way. They have done it successfully all these years, they have the expertise.
"The good thing about our family is, the way our father, his brother and uncle have worked together now guides my cousins and I. We are following the same systems; we all sit and discuss and work together the same way they used to do. This is what makes us strong," he adds.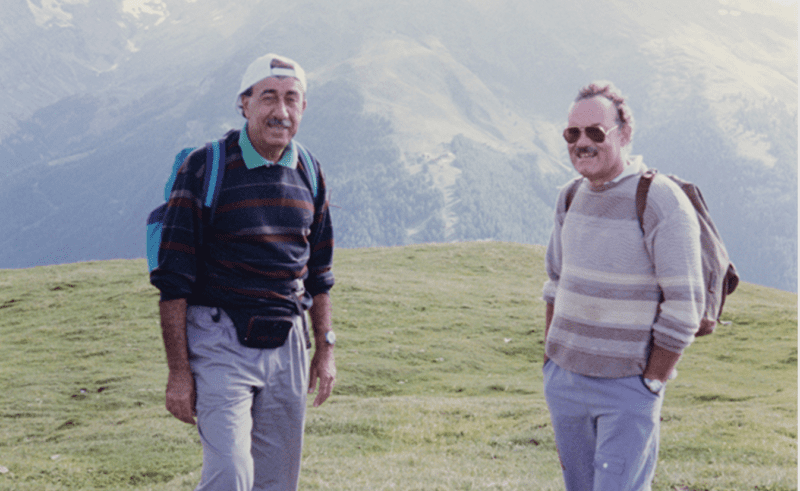 LOVE OF THE MOUNTAINS
Dr Shirazi is a globe-trotter and, in his heydays, he would spend a lot of time outside the country. So, what are his favourite holiday destinations?
"For father, it's without doubt Switzerland," remarks Ahmed. "He used to go to Switzerland several times a year, stay there for long. He likes nature and loved mountains and would go trekking in the hills.
"He fell in love with Crans-Montana, where he used to take us every summer. We still go there, all of us as a family every summer," reveals Ahmed.
To the story of his love for mountains, Dr Shirazi's wife adds her own tale. "In 1978, for our honeymoon, we decided to go to Graz in Austria. To prepare for the mountain journey, he used to take me to Jebel Al Dukhan, Bahrain's tallest hill. However, when we went to the Alps, midway I panicked and said 'I want to go back'. He said it was not possible because we had to climb the entire way up and return by another road. It was too scary for me; the training in Jebel Al Dukhan fell far short for the Alps climb," laughs Mrs Al Alawi.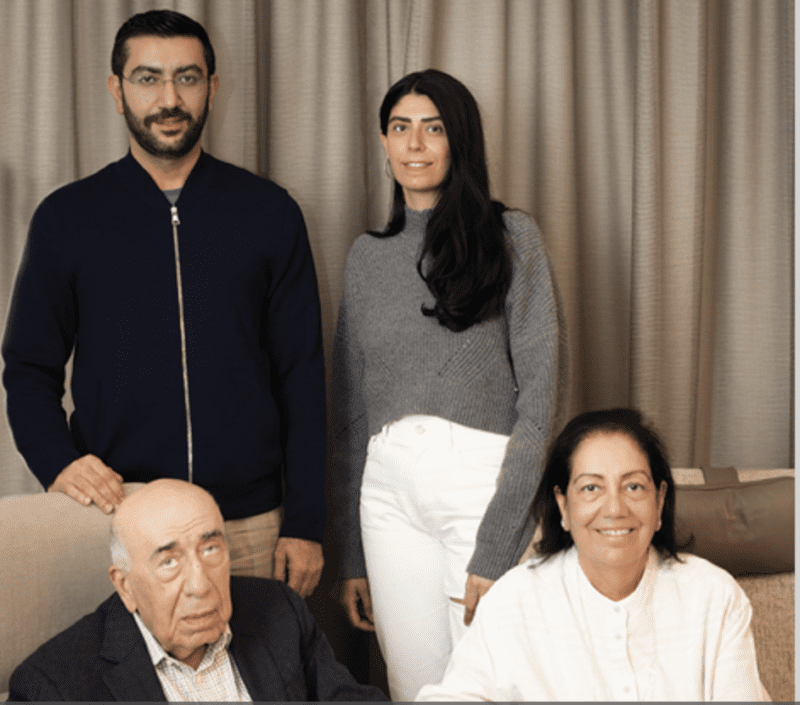 VARIED HOBBIES
Dr Shirazi is disciplined about his daily schedule and will be at the office from 9 am to 1 pm and 4 pm to 8 pm. He loves swimming and till a few years back, would go wading the waters every day, either in the sea and in the pool, for about 45 minutes.
Dr Shirazi is also a keen photographer and has a great collection of Bahrain scenes from the 1970s. He also likes boating and goes to the sea every weekend.
Obviously one timely question is what is his favourite watch? Quick comes the reply – Patek Philippe, which he calls the Rolls Royce of watches. Yes, he collects watches and has a diversified range in his collection, including some rare and limited editions.
BJC is keenly involved in many Corporate Social Responsibility (CSR) activities and Dr Shirazi has a big role in those community efforts.
Of course, we are keen to know the veteran businessman's advice to the younger generation of entrepreneurs and professionals. "Follow your passion, work hard at it, be patient and never give up on your dreams," that is Dr Shirazi's message.
Read the full article